Frequently Asked Questions
For urgent issues please do not hesitate to call us on
99938358
About the colour of photographs (monitors and prints)
Colour calibration
Computer monitors and mobile/tablet screens do their best to reproduce colors and brightness correctly, but each one is different. In fact, a screen even reproduces photos differently when it starts up compared to the way colors and brightnesses look after the monitor has been running for a while.
This is a serious problem when viewing photographs on the computer, mobile or tablet. Photographers are careful to adjust the photographs properly, so they print perfectly, but other users will not view these nuanced adjustments at all on their own screens, and in fact may view the photograph totally wrong (overly bright, too contrasty, or oversaturated/unsaturated). There is no way a user will see the image as the photograph will print, unless their own monitor has been professionally calibrated with a special calibrating device (this of course is very uncommon unless you are a professional photographer yourselves). Therefore, what you see on your screen is really not what you will see once you receive the prints for your photographs!
Once you have downloaded your images on your computer, you may have noticed that images from your high-resolution album display differently from the ones in the standard-resolution folder. Note that this applies for when you download and view them on your computer (on your online gallery they should display the same). This is because of the fact that they have different colour-profiles. High-resolution images have AdobeRGB as their colour profile, so that they contain more colour information, which makes them better for printing at high-end printers. AdobeRGB allows for more vibrant colors in your prints, with better color consistency that your own monitor cannot even replicate. Standard-resolution images, on the other hand, are sRGB, which is better suited for displaying on the web, but contain less colour information.
Unfortunately many computers do not have native support for AdobeRGB, meaning that AdobeRGB images will appear (sometimes dramatically) different than images with the sRGB profile.
The diagram below shows the greater colour gamut of AdobeRGB compared to sRGB. Adobe RGB 1998 occupies roughly 40% more volume than sRGB.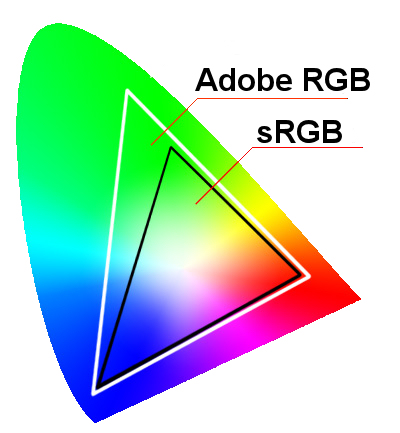 General questions