A TIMELESS GIFT
to your baby and family!
Boutique Newborn photography by Sweetmama
There is nothing as beautiful as stunning photography combined with the cuteness of a newborn baby.
A newborn session is a highly-stylised photo-shoot involving the use of special newborn props, such as nests, baskets, blankets, wraps and clothing and posing techniques that are unique to newborns. It is suitable for babies younger than 20 days old (if your baby is older, please have a look at our Family, baby, and Children sessions.
We start the session with creating beautiful portraits of your newborn in some classic and timeless poses, using our internationally-sourced props. Finally we photograph the baby with the parents. By the end of the session we also photograph the siblings and grand-parents, if they are also taking part.
For more information, also have a look at our Frequently Asked Questions section.
Let me create for you the most beautiful photographs of you and your family that you have ever seen!
I am Alexia Themistocleous, lead photographer and founder at Sweetmama. I have the very special privilege to be among a handful of photographers in Cyprus that specialize exclusively in newborn photography. Originally from South Africa, I have trained with some of the top newborn photographers in the world, and my newborn sessions are designed to provide you with a complete experience at an international level.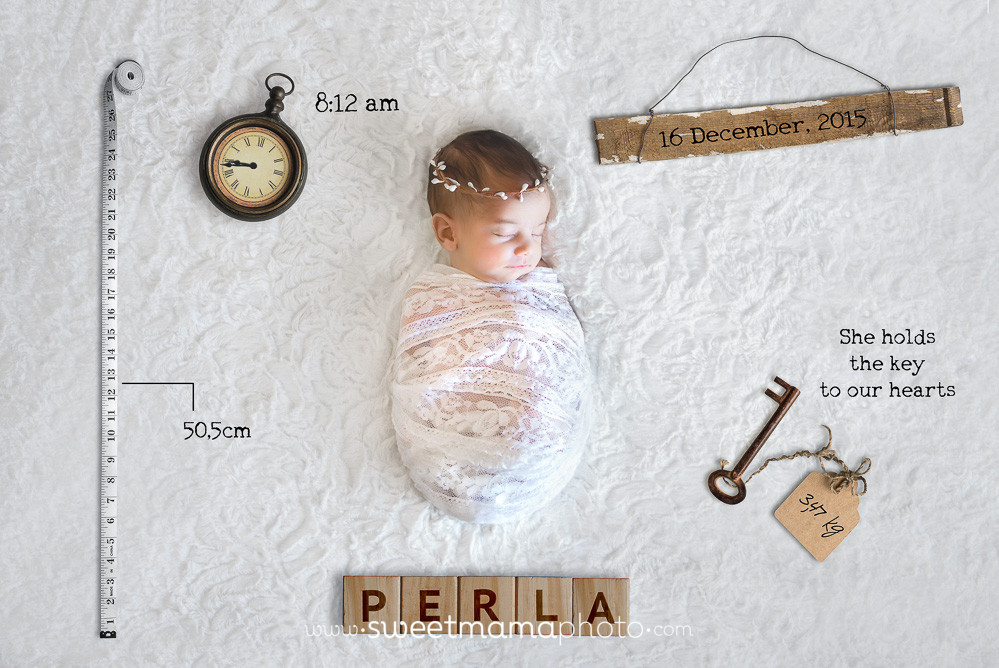 An elegant, adorable and artistic custom Memento Birth Announcement image!
Our specialised Natural Light Newborn Studio
The newborn's safety and mother's comfort are of paramount importance. This is why Sweetmama has created the only specialised Natural Light Newborn Studio in Cyprus, with the newborn's and parents' comfort in mind: a spacious and beautifully decorated place with controlled temperature, comforts for feeding and changing the baby, a chillout space for you to relax, and a wonderful vibe that will make you feel right at home! After all, the more comfortable you are the more natural you will look in your photos.
Our extensive props collection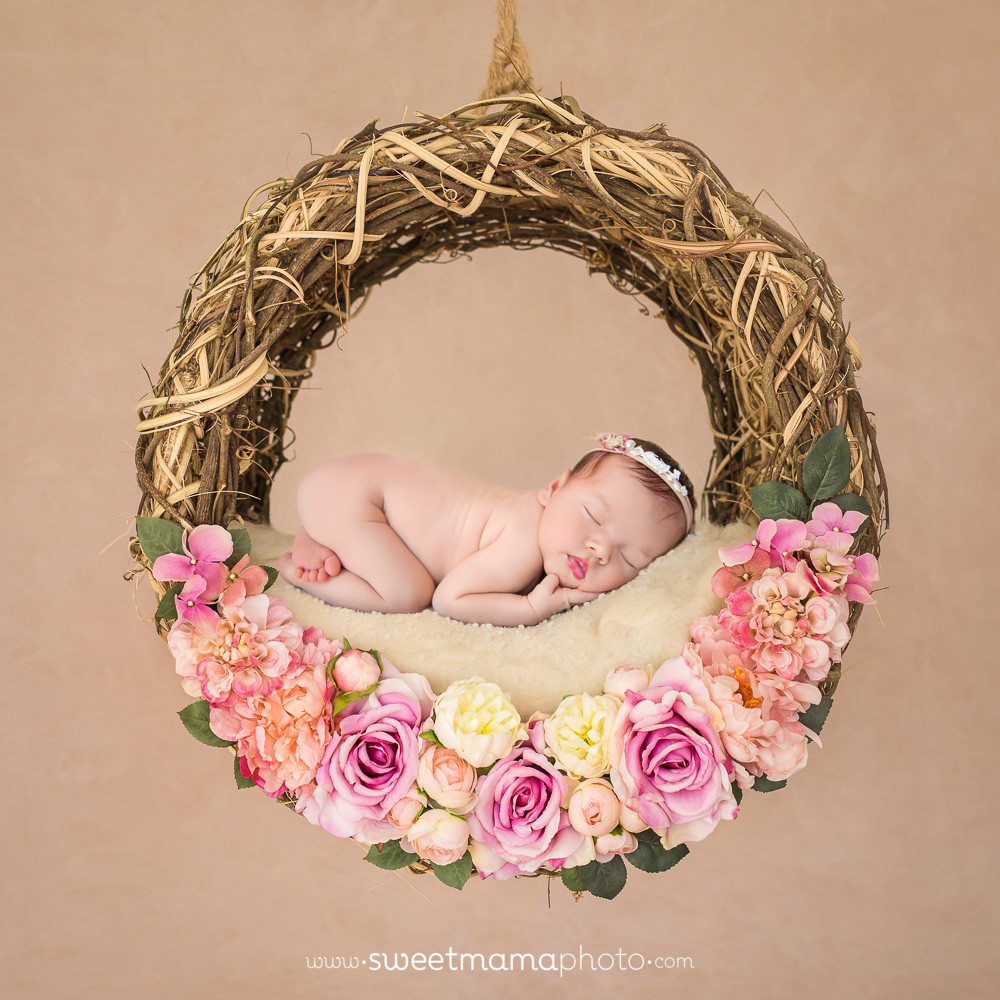 Our collection's wide colour and texture range ensures our photographs match your house's decor and colour scheme!
As a client you will select to use in your session from our extensive range of cotton wraps, mohair nests, vine nests, baskets, buckets, wooden crates, vintage buckets, blankets, faux furs, hairbands, hats, and our exclusive collection of hand-painted backdrop canvases! Our props are safe and comfortable for your infant.
Alexia was able to get my kids to get along (and this is not an easy feat) and take wonderful pictures! Alexia is like the "Child Whisperer"!
The variety and quality of images is outstanding!
Four sessions already with Sweetmama and looking forward to even more! She photographed my 2 babies as newborns and at 1 year old. She is the best in Cyprus, but don't just take my word for it, just look at her galleries!
First time in my life that i have photos of me looking just like a model! Thank you!
You know the posters of newborns you see on the internet? This is what Alexia made for our own baby!
I honestly can not praise Alexia enough! She completely got what we were after for our son's baptism, and captured the day better than we could ever imagine!
Alexia made such an effort and we knew that for her this was not just "another christening"!
Loved the photographs. Loved the Album! Loved the video! Thank you Alexia mou for being a real artist in what you do!
Her attention to every little detail made our family photo-shoot feel posing for Vogue! Loved it!
Our daughter's portrait hangs on the wall in the most prominent place in our house. It makes our day every single time we walk by.
Our daughter's first breath took ours away, and we will always relive this feeling by looking at the newborn photos Alexia made for us!
Our daughter looks so natural and at ease in her photographs. All the pictures are magical! You have really exceeded our expectations!!!
Our newborn session for my daughter was SO MUCH FUN, and the photos are truly beautiful, her talent being visible in every single one of them.